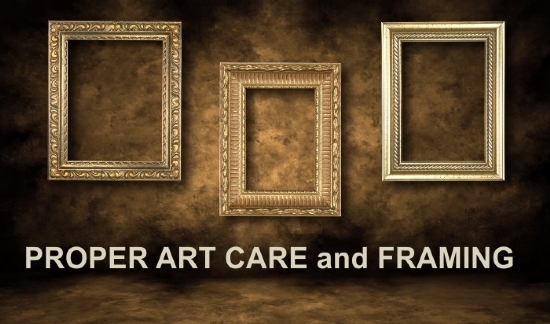 If not framed properly, you greatly risk permanent damage to your purchase!
ART CARE RULES:

Do not place anything on the surface of the painting.

Watercolor paintings are meant to be framed behind glass. There should be a space of at least 1/8" between the surface of the painting and the glass. This is the purpose of matting a watercolor painting, it provides that space. Double matting is preferred if the watercolor is not completely flat. The painting should NEVER touch the glass.
Never touch the surface of a painting. Oils from your skin or other contaminants can damage paper and leave marks that cannot be removed, especially visible on white or black backgrounds. Stains are actually absorbed into the fibers of a painting, then become part of that painting. Make sure your frame has a sealed dust cover on the back of the frame to prevent any microscopic dust mites or other insects from entering which will damage the artwork and matting.
Do not place a painting in direct sunlight. Historically watercolors have been known to fade, mostly hues such as certain reds fade a little over time when placed in direct light. Modern reformulating of pigments have greatly lessened the risk of fading to ensure a long lasting life of watercolor. ***All Mary Irwin watercolors are painted using only use these nonfading modern pigments. Here are a few tips to avoid fading of any framed work:

Make sure that the piece will not be exposed to direct sunlight or continuous fluorescent light. If it will be displayed in a bright room that receives a lot of indirect sunlight or where there is continuous fluorescence, we would suggest you frame it using a conservation glass with UV filter. If the piece will be hung in an area that causes a lot of glare, we suggest a non-glare glass (regular or UV) for best viewing ability.

The best insurance either way is to use UV protective rated glass. Well worth the extra few dollars to have peace of mind and protect your investment.

Use only acid-free materials to display in framing.

Use only acid-free, lignin free mat board materials for matting your art. Also, don't forget the backing. NEVER use regular cardboard. Over time, acids can leach out and do irreparable harm to your watercolor painting. You may also create an extra space between your art and the surface of the frame with acid free spacers under the frames edge. Never allow the work itself to touch the wood frame, as acidic tannins will leach into the artwork and discolor it.
Acidic vs. "acid-free"
There are two main types of mat material: acidic, and "acid-free" (neutral pH).
The difference is important for the long term protection of the piece because acidic mats can cause what is called mat burn, brown marks that creep in from the outside onto the displayed piece itself. While mat burn is sometimes reversible through cleaning the piece, cleaning may not be feasible if the piece was executed in water-soluble inks or paints, such as watercolor. Thus, it is important to know if the mats used are acid-free if the piece is to be preserved for a long time.
To determine the pH of an older mat with a white core, look to see if the core (visible where the mat has already been cut) has turned brownish or yellowed; if so, it is acidic. If the core has not changed color, one can determine the pH by using a pH tester.
While some say that acidic framing materials should be avoided for all but the most temporary frames, it is not safe to say that all "acid-free" mats are recommended for long term preservation use. Caution must be exercised in selecting the type of matting desired. Art work that is desired to last long term (more than 75 years) can be damaged by improper mat boards that are used intentionally to lower cost.
The hierarchy of mat board quality is as follows:
I. Museum Board - The highest quality material available. It is constructed of 100% cotton fiber, is Archival and will protect and preserve the contents of a frame. While it is the most expensive material available, the difference in actual material costs relative to the cost of framing is minimal.
II. Museum Mat or Rag Mat - Still a good quality choice for conservation, it is constructed of cotton linters (short cotton fibers) and cellulose (wood pulp) middles. The cellulose is a less expensive raw material but offers sufficient conservation properties for most works.
III. Conservation or Archival Mat Board - Constructed of 100% pure high alpha cellulose (wood pulp) and treated to be inert for up to 300 years. This is the highest quality paper matboard available.
IV. Acid-Free or Acid Free Lined - This material is usually lined with a wood based liner on one or both sides that has been treated to prevent "short term" acid burn and the core is either recycled fiber. Eventually the acid in the core will leach out to the surface which can harm the artwork.
Do not display your painting in an excessively damp location.

Watercolor paintings are not varnished. Thus, they have no protection against moisture. Avoid placing art in damp locations such as bathrooms. Moisture developing between the painting and the surface of the glass can wash out colors and encourage mold/mildew to grow.
FRAMING :
Framing Tips by Larson Juhl.com

To make a smart frame selection, consider Color, Style and Scale.

Unless you make greater choices in each category, your frame design will not look its best.

Frame can blend or contrast with the art or mat it is adjacent to. Blending colors will bring a subtlety to the design whereas a
stronger contrast will be more dramatic. One look may be more appreciated than the other for specific colors and styles of art.

It is common to choose a frame that matches or relates to the style of the art, but it isn't always necessary. When framing period pieces it is desirable to choose a matching style. When framing newer art it can be fun to intentionally choose an unexpected style to add interest. There should be a relationship between the art and frame but it may come from a pattern on the moulding replicating the look of something in the art.
Choosing an appropriate width and depth frame is important. The frame needs to be substantial enough to physically support the size and weight of the piece being framed, meaning a heavy plate glass mirror will require a wider frame than a lightweight stretched canvas. A frame should also look supportive of the visual weight of the art. Darker colors, heavy textures and bold patterns can all contribute to the appearance that art is heavier than it may actually be. If framing several sizes of the same print, the frame should get progressively wider for larger sizes to maintain the same sense of balance from one to the next. The era of the art can also guide your selection. Different frame widths were popular at various times in history.

Tip:

The depth of a frame should be able to accommodate all the contents that will accompany the art, including glass,

mats,backings, etc. Deeper frames than needed can also be used to project the art outward or recess it to add depth.

Framing Simulator

Larson Juhl offers a virtual framing wizard to visualize of what your piece will look like at: Larson Juhl Frames
Info on Mary's Original Art Pieces:
The Paints

used by the artist are the highest quality pigments of a 'A' light-fast rating. Mary uses only 'Artist Grade' watercolor pigments, mostly Winsor & Newton and a few Holbein colors. She researched thoroughly the chemistry and qualities of watercolors pigments in the 1990's making the decision to eliminate all known non light-fast pigments from her palette. Doing so has dramatically reduced any fading.
The Paper used is always the highest 'Artist Grade' either Fabriano or Arches professional watercolor paper. These are mould-made, 100% Cotton Rag Acid Free papers of either 140lb stretched or 300lb weight to prevent buckling.
The Measurements stated are of the FRAMABLE portion, allowing your art to comfortably fit under a mat on all 4 edges. Original paintings may have very small color testing spots on the back or around the the very outer edge which will lie under the mat.
---
ART CARE LINKS:
The link above is a comprehensive compilation of the Henry Ford Museum's conservation framing.
By far the most complete and well written information I have found as of yet.
Articles by Mary Fahey, Chief Conservator of 'The Henry Ford' Museum.

Care and conservation of prints, drawings and watercolors.
http://www.conservationregister.com/careprintsdrawings.asp?id=4